Sparks fly over Joliet mayor's comments on crime stats report
O'Dekirk accuses Giarrante of playing politics, and Giarrante responds
Rex Robinson | 4/3/2014, 4:13 p.m. | Updated on 4/4/2014, 7:30 a.m.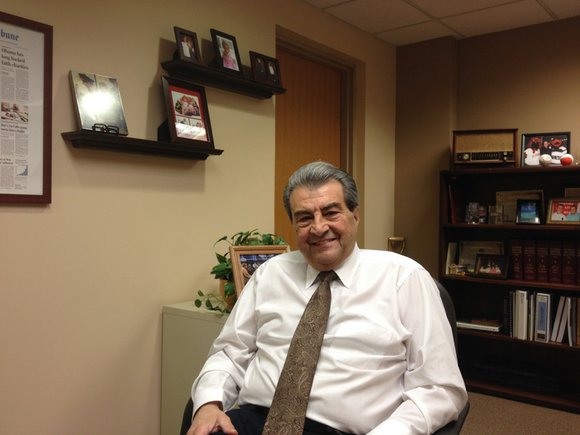 While acknowledging that the full report itself is available to the public, O'Dekirk said it is Giarrante's attempt to use selective pieces of it for political gain that casts the city in a negative light. O'Dekirk described it as an insult to every resident and business owner in Joliet and cautioned that it will harm home values and business prosperity in the future.
O'Dekirk, a former Joliet Police Officer, described the report as typical of any large city. It shows that crime is down significantly in the community at-large; while being higher at the subsidized housing projects. O'Dekirk explained you would find similar statistics in large cities around the state and even the nation.
"The Mayor is supposed to be a supporter and a leader in the city," O'Dekirk said, "and it has been painfully obvious since he took office that he is neither. We are a city without leadership at a time that we need strong, professional leadership."
A copy of the report can be found at www.jolietpolice.org/press-releases
Giarrante responds to O'Dekirk
In response to O'Dekirk's recent comments stemming from the Joliet Police Department crime report, Giarrante said he felt it was important to set the record straight with the residents of Joliet.
"Mr. O'Dekirk stated that he believes the data in this report was 'skewed,' " Giarrante said. "I take exception to that remark as the report was generated by the Joliet Police Department. I have nothing but respect for the men and women of the department, and I am deeply offended by Mr. O'Dekirk's lack of confidence in their abilities."
Giarrante added that the discussion began when some members of the council stated they thought Evergreen Terrace was safer than other areas of the city.
"It isn't, and this report proves them to be wrong. I believe every resident deserves to know the negative effect Evergreen Terrace has had on the surrounding neighborhoods as well as downtown Joliet," the mayor said.
"It was Councilman (Jim) McFarland who requested (the Joliet Police Department) generate the report, and now Mr. O'Dekirk questions why it was released. He pretends to support 'transparency' and then wants to deny citizens access to information about their safety. You can't have it both ways.
Giarrante said O'Dekirk has also continuously questioned Joliet's legal fight effort over Evergreen Terrace, and "now he wants to hide negative information on the crime that occurs there. It makes you wonder whose side he is on, the City of Joliet's or the ownership of Evergreen Terrace?"