Kam's Kapsules: Weekly Previews That Make Choosing a Film Fun
For movies opening April 10, 2015
Kam Williams | 4/8/2015, 12:59 p.m.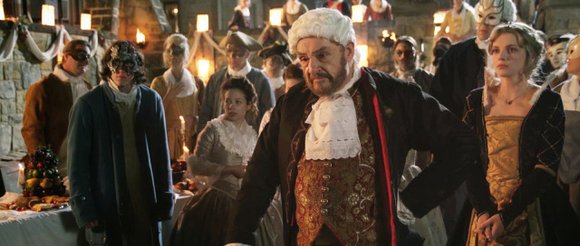 Living in the Age of Airplanes (Unrated) Harrison Ford narrates this anthropological examination of how the miracle of flight has altered the evolution of human life on the planet.
Lost River (R for profanity, sexuality and disturbing violent images) Ryan Gosling makes his writing and directorial debut with this escapist fantasy revolving around a cash-strapped single-mom (Christina Hendricks) who finds herself swept into a subterranean dark world. With Ben Mendelsohn, Saoirse Ronan and Eva Mendes.
The Reconstruction of William Zero (Unrated) Sci-fi thriller about a geneticist suffering from amnesia (Conal Byrne) who makes a shocking discovery while trying to relearn who he is with the help of his identical twin brother. Support cast includes Amy Seimetz, Tim Haberger and Adam Fristoe.
The Sisterhood of Night (PG-13 for mature themes, suicide, sexuality and prescription drug abuse) Screen adaptation of Steven Millhauser's short story of the same name about a teenage girl (Kara Hayward) who becomes the subject of a modern-day version of a Salem witch trial after publicly complaining about her initiation into a sinister sorority. With Kal Penn, Georgie Henley, Willa Cutthrell-Tuttleman and Olivia DeJonge.
Song from the Forest (Unrated) Cross-cultural documentary about Louis Sarno, an American musicologist who moved to the Central African Republic in 1985, had a child with a Pygmy, and raised his son in the rainforest.