Outdoor dining, with restrictions, will soon be allowed throughout Illinois
By Rex Robinson | 5/20/2020, 5:44 p.m.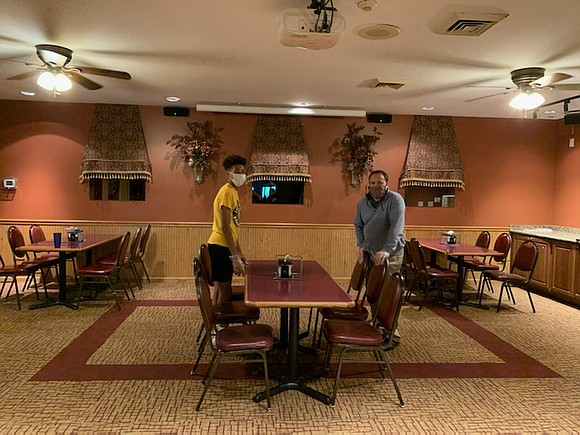 "The steaks at Cut 158 cost $60 to $70 and I'm not going to put them in a to-go box," Dimitroulas said.
About 25 of his employees have been laid off, and while he plans to ask them all to come back when the stay-at-home order is lifted, it's not easy for anyone. Dimitroulas said the outdoor dining option might help some restaurants in the city, but he doesn't have the space for it.
 While it's been hard to lose so much business with the two restaurants closed, Dimitroulas said it is best to wait and be sure everything is safe for both his customers and his employees.
"If you survived three months, you'll survive one more," he said, adding that if things re-open too quickly and the virus spreads to more people things will go back to being closed again and it could last even longer. "Let's wait another month to clear up everything."
Sue Schultz and her family own Cemeno's Pizza, 1630 Essington Road and they too have closed the dining room and banquet rooms that combined can hold up to 500 people. She applauded O'Dekirk for trying to help restaurant owners in Joliet, but like Dimitroulas, she said it really wouldn't help her family's business.
Schultz had to greatly reduce the staff the restaurant as a result of the shutdown. "We had about 85, and now we have about 25 working," she said, adding that all will be asked to come back once the stay-at-home order is lifted.
Shultz said she disagrees that restaurants need to remain closed for dine-in during the pandemic, adding that no one is mandated more about sanitation than restaurants. "If someone is uncomfortable with it than don't go out," she said.
Schultz and her family members are using this time to prepare for what comes next. All tables have been separated by six feet and they have even created a small ice cream parlor in one of the rooms.
"We want to make sure we're ready to hit the ground running when this shutdown is lifted," Shultz said.
That's exactly what O'Dekirk wants to hear. He said this is great time for all restaurant owners to prepare their establishment for reopening to the public to ensure they will meet the guidelines that will be in place.
For more information about Gov. Pritzker's Restore Illinois Plan, visit https://coronavirus.illinois.gov/s/.